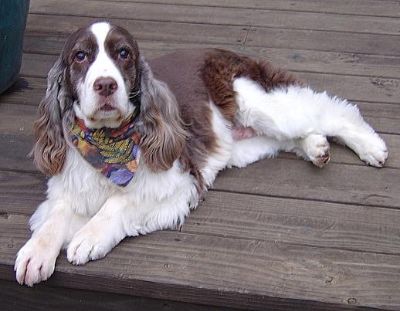 Our contract provides a SAFE HOME for ALL of our dogs/puppies should an owner be unable to keep them---FOR THE LIFE OF EACH DOG WE BREED. Pebbles is being returned because her owners both passed away last year. Their son Mike contacted us and asked our assistance in locating Pebbles' next "Forever Home".

Pebbles is a LIVER/WHITE, 9 year old spayed female. A full sister to our CHAMPIONS Keeli and Junior, Pebbles is well put together. She is smaller than Keeli. We had originally kept Pebbles ourselves to show, but placed her in a show home at 6 months old. That family didn't have the time to show her, and she was returned to us at the age of 4. We found her a wonderful pet home with her last family, who had her for 3 years. Well taken care of, here is info on Pebbles from Mike:

"She has a very bright disposition and is really easy around
the house. Pebbles is crate and obedience trained. We keep her inside at
night, both in and out during the day. No health problems at all except she
has had a couple of ear infections since I have had her, which cleared up quickly with drops.

She gets along very well with our 16 month Golden, but not too well
with our 14 year old Lab. Pebbles was protective with my parents around
certain other dogs. I believe that Ron had talked to them about this. I had
used my old lab, who is as solid as they come, to help socialize Pebbles when
she reacted aggressively. They now have worked out their differences and
tolerate each other. My thought on placing her would be as a single
dog with a family. She would also be a perfect companion for a "mature"
person or couple, where she could regain the "princess status" that she had as
my parents' pet.

She doesn't jump up on furniture, really no bad habits with the
exception of being protective."

PEBBLES FOUND HER NEW FOREVER HOME!!!

ALL CONTENT, COPY, AND PICTURES ON THIS SITE IS COPYRIGHTED AND MAY NOT BE USED FOR ANY REASON WITHOUT EXPRESS WRITTEN PERMISSION. (c) 2004-2006 PROMISE KENNELS