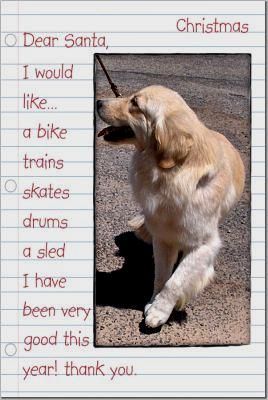 Often we keep one or two promising puppies from a litter to allow them to grow up a bit more to see if they will have "the right stuff" for the show ring and our breeding program. We work and train them every day during this period. Sometimes they even are shown and win points and titles. If you're LUCKY, we have one listed here that's available. Fill out a Puppy Questionnaire and be specific about which older pup/dog you are interested in and email it to me.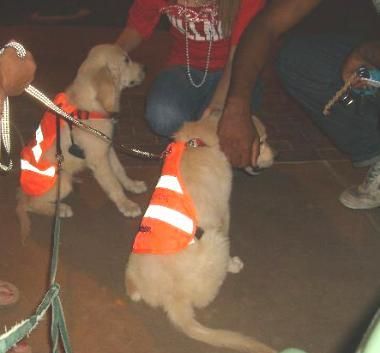 GOLDEN PUPS IN TRAINING! Gambit (L) and Player (R) are being trained and are available. They have mastered crate training, walking on leash, sit, stand, and several other commands. They are being socialized in many settings. Seen here at the mall on a Sunday night, 4 months old. Both are males, very light gold. If you're interested, email me and I will be happy to send you some more photos!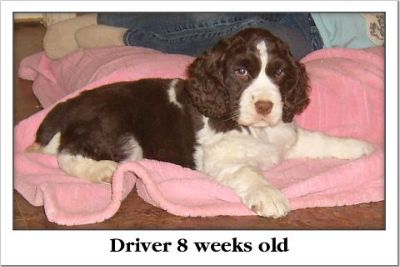 A PUPPY! 8 months old Liver/white English Springer Spaniel puppy "DRIVER" (Promise's Drive N Determination) is available to a Pet/Companion home. He is currently in training. His parents are Multi-Champion Keeli (AKC/UKC/Int'l CH Promise's Keeli Ni' Sierra, CGC) and Tuggy (AKC CH Silverhills Sea Dog Go). What a chance to get such a well-bred Springer puppy. Click on his photo to visit his page. (I will update this photo soon).

UPDATE JUNE 2008: We are looking at our time commitments and have made the difficult decision to place some of our Multi-Champion dogs.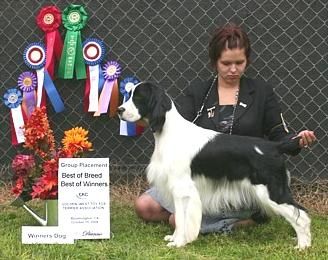 WE ARE CONSIDERING placing our beautiful 2 1/2 year old black/white Springer BOOMER (UKC/Int'l/Nat'l CH Promise's Can You Hear Me Now) into a special home. He loves people and children, but is a little picky if the dog isn't a breed he's been around (I think he sees poodles, bichon's, newfies and other breeds as members of a weird cult or perhaps aliens from the "dwarf-planet" Pluto...). Ron is working with him on that. Boomer is tied for #2 in the UKC TOP 10 for 2007. IF we place him, it will be after June, 2008. To read more about Boomer, click on his picture to go to his page. Would prefer to place him in California, so we can visit him.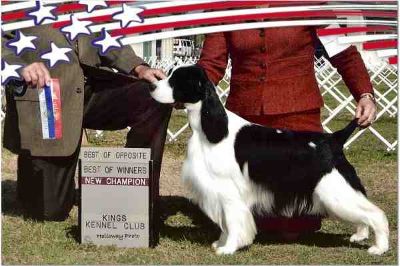 "Princess" Harley is a multi-Champion titled, sweet girl who is wonderful with kids, other dogs, cats and traveling. Smart and well-trained, Harley walks great on the leash, is crate and house trained, potties on command and even TALKS. Available to the perfect pet/companion home. She may be a small package, but she has a BIG personality! To read more about Harley, click on her photo to visit her page.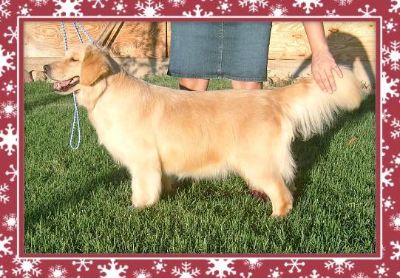 We have retired Angel... She is the mom to many of our beautiful Promise puppies. Please call if you would like more specifics. She has all her clearances, of course, is an International Championship and is Champion pointed in the UKC ring. She is a happy girl, good in the house, walks well on lead and is a smaller girl - weighing in at about 58 pounds. Fill out a questionnaire and tell me what an amazing life Angel will have with you - MUST be EXCEPTIONAL! Click on her photo to visit her page.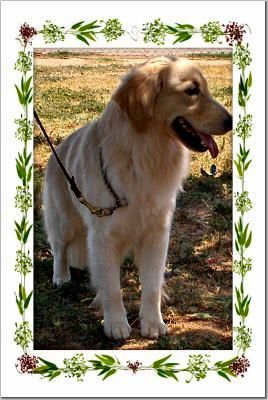 Wendee is available. Wendee is a light honey color (similar to Angel). She is a smaller girl who has lots of love to give. This California blonde loves long walks on the beach, Barbeques and quiet nights at home curled up next to the fire (or air conditioner - it's Summer!). She gets along well with others - males and females. Wendee is perfect if you'd like a smaller Golden. Drop me an email if you're interested. Be sure to tell me it's WENDEE.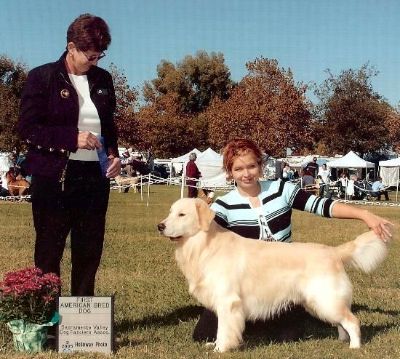 DITTO HAS A NEW AND WONDERFUL HOME! THANK YOU Brad! Ditto gets to go to work with Brad every day. I know he's one happy boy!